Couple brings New Zealand backpack brand to Whidbey
Distributors leap from buying outdoor gear to selling it
by

Maria Matson, South Whidbey Record
Friday, March 15, 2019 3:51pm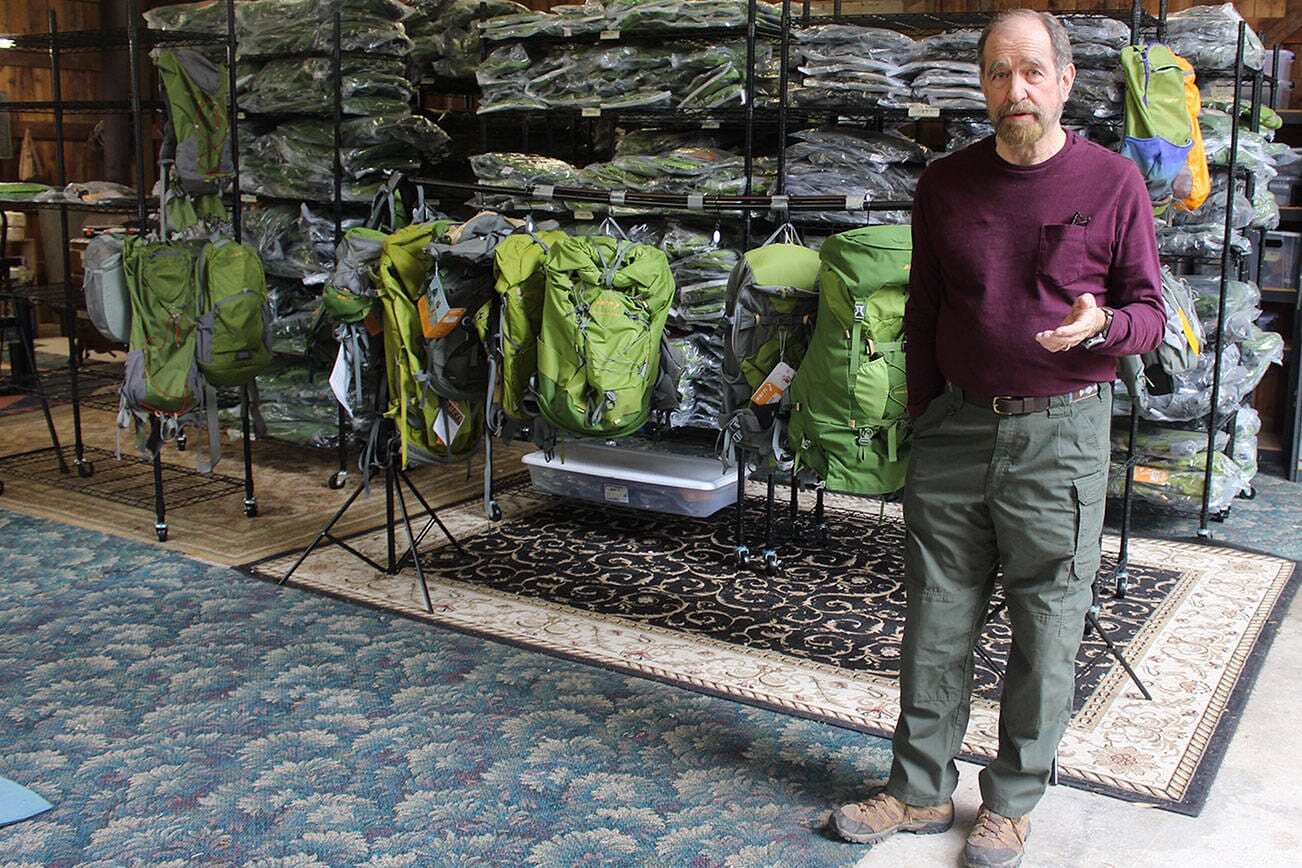 Rich Murphy uses an old barn as a warehouse for a line of backpacks called Light Hiking Gear that are designed in New Zealand and sold worldwide. Murphy and his wife, Genie, are the new North American distributers for the backpacks that emphasis balance and reducing strain while hiking. (Photo by Patricia Guthrie/Whidbey News Group)
What began as a search for a comfortable, durable backpack ended with a business adventure for husband and wife team Rich and Genie Murphy.
Their plans to hike Glacier National Park required a comfortable backpack, and the outdoor enthusiasts discovered that they had to look a bit farther than expected for the perfect pack.
"I was searching all over to find the best equipment for our glacier hike and came across a company in New Zealand," Rich said.
He wrote to Aarn Design and had them send up a backpack for their trip.
"We used their backpacks and discovered what they say about their backpacks was really true," Rich said.
Aarn's claim to fame is selling backpacks that are comfortable, lightweight and well-balanced, which is not always easy to achieve with heavy gear that hikers sometimes carry.
Most backpacks hurt, Rich said, either because of the straps, too much weight on one part of the body or the bad posture it creates.
"Aarn's vision was to create a load-bearing system that's stress free and comfortable," Rich said.
Eventually, he asked Aarn a question. Why isn't the company selling the products within the United States?
Rich, a veteran, has a background as a business management consultant and was ready to take on the challenge after Aarn agreed that the products should be brought to the states. While Aarn has been operating for 40 years, the U.S. hadn't been one of the retail locations.
Its backpacks are built for any length of journey and make it so people could hike 20 miles a day without taking it off, for example, Rich said.
What exactly makes the backpacks so comfortable? Rich said the unique front-balance pockets allow a lot of a weight to be held on the front of the body, rather than stressing the back, neck and shoulders.
"People are better balanced, so they have a more upright posture," he said.
Also, their backpacks have shoulder straps that "float," so weight is distributed away from shoulders. The weight is on the hip bone, where it's supposed to be, he said.
This new method of load bearing is amazing, Genie said.
"That really convinced us that this is the design we must introduce to America," Rich said.
The Murphys have been running their business since October 2016 and on South Whidbey since June.
Most of their sales come from online orders, but they have a warehouse where people can schedule a one-on-one consultation to see the products, get advice and try packs on.
Genie said she encourages people to come in person to try on backpacks for their best fit.
"There are so many different models, it's really possible to find something that fits your body perfectly," she said.
Sometimes older people think backpacking is out of their realm, but these backpacks make it possible to hike at any age.
"We're excited about being here on Whidbey," she said.
The products are also sold in Port Townsend at Disco Bay Outdoor Exchange and online at www.Light Hiking Gear.com
The Murphys can be reached at 801-971-0007 to make an appointment to try out the gear.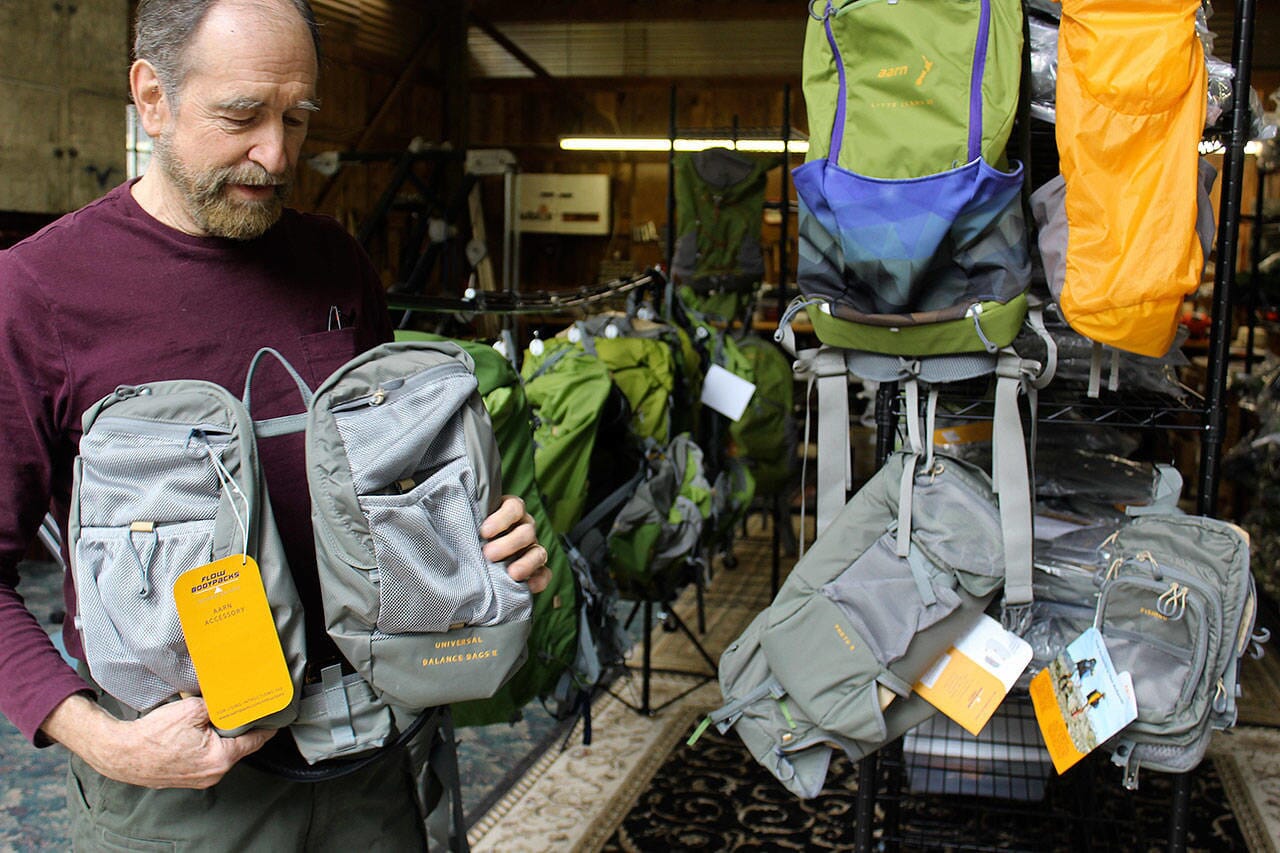 Rich Murphy shows tandem packs that can attach to backpacks and be worn in front to help with balance. (Photos by Patricia Guthrie/Whidbey News Group)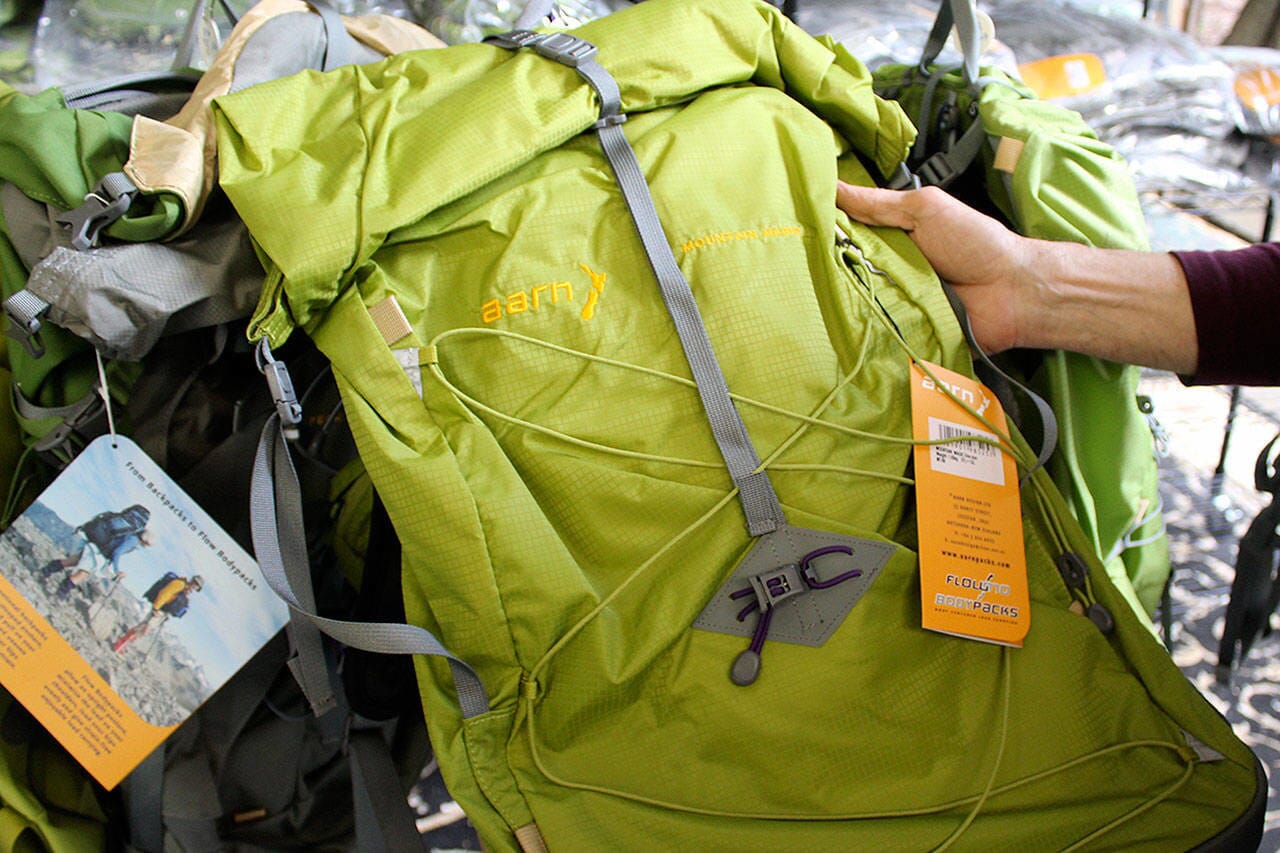 The backpacking equipment company called Aarn began when New Zealander founders Aarn Tate and Devi Benson began designing outdoor products to be more "body-comfortable." The material is extremely tough but light and durable. (Photos by Patricia Guthrie/Whidbey News Group)
© 2019, South Whidbey Record and Sound Publishing, Inc.