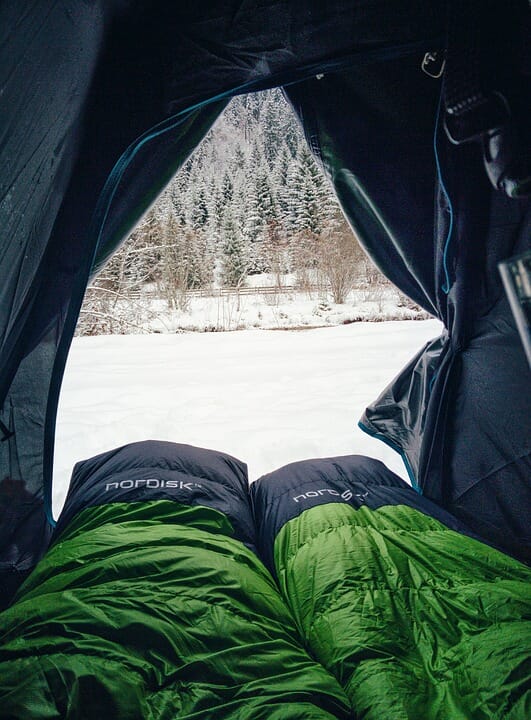 Winter is just about to end, so better get out your camping gear and have one last trip with your friends. Those starry nights under the sky, the cozy and warm sleeping bag and late night gossip session with friends… don't you want to do it one more time before the summer heat arrives?
So, dust out that sleeping bag and start packing. But wait… what if it starts to rain and your sleeping bag gets dirty? Have you ever felt that after one night in the sleeping bag, it gets this musty and sweaty smell? Well, there's a trick to getting rid of that stink… in fact, there are many tricks to keeping your sleeping bag clean.
Whether you have a synthetic or down sleeping bag, it is important to keep it protected and dry. This will keep its insulation intact and it will last longer. Following are a few tips on how to keep your sleeping bag clean:
#1 – Always Sleep Wearing Clean Clothes
No matter how exhausted you are, do NOT crawl into the sleeping bag in the same clothes that you hiked in. As mentioned earlier, sweat, dirt and body oils can destroy the bag's insulation. First, change into new clothes, wear socks, wash your neck and face off the sunscreen, wear a clean bandana or a knit cap to keep the bag's hood safe from your oily hair and the, enter your sleeping bag.
Moreover, change clothes after cooking as it makes you a delicious burrito all wrapped up in your sleeping bag for bears.
#2 – Don't Forget the Sleeping Bag Liner
Sleeping bag liners can be of any fabric such as polyester, wool, silk or cotton. All these materials are lightweight and easily fit in your backpack. The liner keeps the bag clean as it forms a barrier between the bag and your skin. Plus, the liner ads up to 15°F to the bag's temperature rating. If it doesn't rain, only the liner needs to be washed and the sleeping bag can be wrapped in a plastic bag as it is.
#3 – Avoid Direct Contact of the Sleeping Bag with the Ground
Planning to sleep under the stars? Then, better protect your sleeping bag because the ground can be harsh on it. Place a pad underneath the sleeping bag to prevent it from getting damaged from sharp rock and sticks. While some bags are waterproof, it is still advised to use a pad. Better be safe than sorry because sleeping bags are expensive.
#4 – Air out the Sleeping Bag Every Day
Say it rained last night and now you have a wet sleeping bag on your hands. No worries. Simply turn the bag inside out and let it dry under the sun for a few hours. In fact, do this every day as it helps remove moisture and stinky odors. However, make sure that the bag is not left under the sunlight for long or the UV rays might degrade its fabric.
There you go… 4 sleeping bag care tips that will help you maintain a clean and safe sleep area every night. If you are looking for lightweight backpacks that will store all your sleeping accessories, then visit Light Hiking Gear. The website offers body friendly backpacks, camping gear and several accessories that will make your camping trip all the more enjoyable.